The Wood Marketing Federation organised a major seminar Wood for all Seasons seminar in Farmleigh on May 11. Shane McEntee, Minister of State, acknowledging the link between the forest and the end user provided the opening address while seven experts made presentations on the importance of wood as a sustainable material for construction and other applications.
The keynote speaker was Glen Howells, Glenn Howells Architects the Birmingham based practice. Howells who is Visiting Professor at Nottingham Trent University has led the practice to win numerous major design competitions and awards for a diverse range of building types including the Savill Garden Visitor Centre, Windsor: Newman University College, Birmingham; and the Market Place Theatre and Arts Centre, Armagh. His talk featured a number of case studies including the Savill buildings. It is regarded as one of the finest examples of  sustainability, practicality and architectural elegance in one building where oak and larch are used throughout.
Ciaran O'Connor the Irish award-winning architect discussed the Green Public Procurement Document for Construction while Gordon Knaggs presented a paper on plywood and panel board products. He was critical of some plywood imports from China, which were of extremely poor quality.
Pat Glennon discussed innovative ways to capture markets with homegrown timber. Papers on timber treatment including preservation and coatings were presented by Colin Molloy, Pat McCarthy and Paul Harvey. The seminar was chaired by Richard Lowe, Coillte.
WOOD FOR ALL SEASONS SEMINAR
Held in Farmleigh House 
on May 11, 2012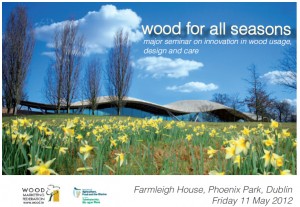 The half-day seminar was part of the 2012 Wood Marketing Federation programme. It explored the innovative use of wood and wood products mainly in external applications. This event featured wood use and design using wood sourced from sustainably managed forests. Speakers included experts from the fields of wood science, architecture, timber processing and timber treatment.
The objective was to inform a wide range of stakeholders of the importance of wood as a sustainable material for construction, design and other applications including fencing and leisure products. It  addressed issues such as small and large scale construction, treatment, maintenance, engineered wood and species suitability.