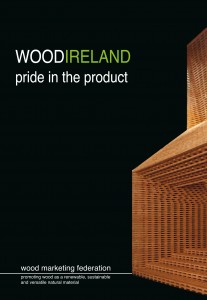 PRIDE IN THE PRODUCT BROCHURE
The Wood Marketing Federation launched its new wood promotional booklet Wood Ireland – Pride in the Product in  2013 at Timber Expo, NEC Birmingham. The book is aimed specifically at our UK audience. It was a huge success and provided conclusive evidence that the Irish forestry and forest products sector is truly open for business. The 64-page booklet illustrates a vibrant industry, which is now export oriented. Pride in the Product has been circulated at exhibitions, seminars, workshops and trade shows in Ireland and the UK including Timber Expo. Enterprise Ireland has also agreed to circulate copies to customers and other stakeholders in the UK.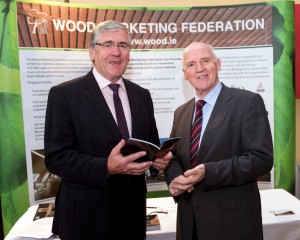 Tom Hayes, Minister of State with responsibility for forestry receives a copy of Pride in the Product from Donal Magner at the WMF stand at the Teagasc-Timber Growers seminar in the Ballykisteen Hotel, Limerick Junction on October 8.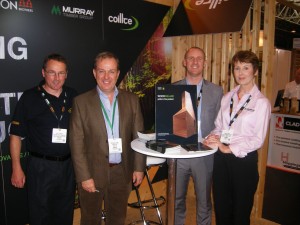 Pictured above at the WMF stand, Timber Expo, NEC Birmingham on September 24: Paul Harvey, Lonza marketing manager and chairman WMF, Richard Lowe, Coillte, Patrick Murray and Mary Lewis, Murray Timber Group.