This project aims to expand wood in the 3rd level courses in architecture, engineering and design. It concentrates on the final two years of relevant courses in universities and institutes of technology.
It runs in tandem with the 3rd Level Student Awards and the response from the colleges has been very positive without exception. Sustainability is a major focus in the minds of the students and lecturers alike. Wood ticks all the boxes for them.
A number of colleges are prepared to increase their input of wood and wood related studies in their courses. Both National Universities University College Dublin and University College Galway have specifically agreed to provide more hours with wood input in their architectural and engineering courses as a result of our promotional drive.
Convincing other colleges that wood needs to be an inherent element of courses will take longer and we need to provide colleges with more support but the response has been positive.
A number of WMF members have agreed to co-operate with colleges in organising field days and study tours. For example, Waterford Institute of Technology students have visited SmartPly and WMF in association with Coillte and Murray Timber organised a field trip for relevant lecturers and administrators in UCD and NUIG last April.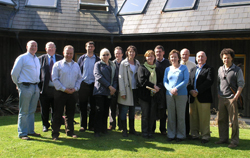 Field trip to Coillte and Murray Timber
Attendance at Wood Marketing Federation field trip which began in Coillte HQ to promote wood usage to third level colleges – Donal Magner, WMF, Christy Conway, WMF, Richard Lowe, Coillte, Neal Murphy, UCD, Karen Foley, UCD, Dr. Paul Fanning, UCD, Sophia Meeres, UCD, Elizabeth Shotton, UCD, Tony McTigue, UCD, Dr. Annette Harte, NUIG, Willie Fitzgerald, Enterprise Ireland, Michael Lynn, COFORD and Ticso Fabia, UCD.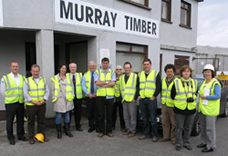 The group was joined at Ballon Sawmill by Patrick Murray (left), Murray Timber Group and John Brady, Woodfab Timber (fourth from left).