Woodspec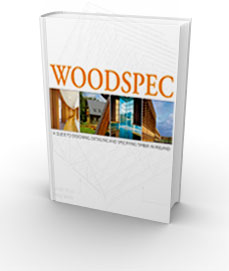 Woodspec is a guide to designing, detailing and specifying timber and reflects a growing confidence in wood usage and design in Ireland. Although it is aimed primarily at architects, engineers, designers, builders, planners, specifiers and students, Woodspec is designed to appeal to anybody with an interest in wood and wood working.
The large format 352 page hardback book, originally published as a manual in 2001, has been completely revised and updated, and new sections and information have been added, including 'Creating in Wood' which presents case studies of timber design in award winning large-scale building projects, timber frame housing, roadside feincing and acoustic barriers, interiors and sculpture.
Woodspec is available for €35.00 (€25.00 + €10.00 postage and packaging) from: The Wood Marketing Federation, 1 Heatherbrook, Marlton Road, Wicklow, Co. Wicklow, Ireland.
Tel: +353-(0)404 61111
Email: info@wood.ie
Some of the information in Woodspec is available on-line, including technical sections on design guidance, detailed drawings, timber specifications, building specifications and reference materials.