WOOD AWARDS IRELAND 2016 
Revised closing date for Wood Awards Ireland 2016 – August 26
A number of entrants and potential entrants for Wood Awards Ireland have requested an extension to the closing date of the awards due to holidays and work commitments, so we have decided to extend the date to accommodate as many entrants as possible to August 26. Also note that the size of the poster to be submitted is A1.
The Wood Marketing Federation Council is organising the second Wood Awards Ireland (WAI) in this year following on from the successful 2014 awards. WAI was initiated to promote wood usage and design among architects, engineers, designer and craftspeople. The Federation has secured funding from COFORD, Department of Agriculture, Food and the Marine, The American Hardwood Export Council (AHEC), Coillte and Enterprise Ireland, and administrative support from the Royal Institute of the Architects of Ireland (RIAI) and the Society of Irish Foresters. We are now issuing invitations to Irish architects, engineers, designer and others working in wood to make submissions to WAI2016 as well as Irish practitioners working overseas.
Wood Awards Ireland will be promoted to an Irish and international audience.


WMF is delighted to announce support
from the following organisations:

https://www.agriculture.gov.ie
http://www.americanhardwood.org                  
https://www.enterprise-ireland.com

http://www.societyofirishforesters.ie
Wood Awards Ireland 2014 winners
Ballyogan building wins overall wood award comprising building,
conservation, furniture, international and innovation categories
The Dun Laoghaire Rathdown County Council operations centre in Ballyogan, Co. Dublin is the overall winner of Wood Awards Ireland (WAI). The awards were presented by Tom Hayes, Minister of State with responsibility for forestry who praised the overall and category winners for using timber sourced in Irish and international sustainably managed forests. WAI was organised by the Wood Marketing Federation and supported by the RIAI.
The project was sponsored by COFORD (National Council for Forest Research & Development), Department of Agriculture, Food & Marine, AHEC (American Hardwood Export Council), Coillte, and Enterprise Ireland. Overall and category winners received specially commissioned awards created in yew and elm by the award winning sculptor Michael Warren, Honorary Member, RIAI.
The WAI jury arrived at a shortlist of 18 projects from 64 entrants in the following categories:
Large-scale public buildings
Small-scale private buildings
Conservation
Furniture
Innovation
International
Large-sale building –  Ballyogan
Three buildings were shortlisted in the large-scale public building category. These were Ballyroan Library, Airfield Evolution and the Dun Laoghaire Rathdown County Council. (DLRCC) Maintenance Centre.
The Award went to the DLRCC building which also won the overall award. "The 3,700m2 office building uses timber in a holistic way exploiting its versatility for a variety of end uses from structure to windows to achieve its environmental design goals," said Ciaran O'Connor, chair of the WAI jury and State Architect. " This is the work of an innovative and knowledgeable designer in whose hands wood finds its full expression," he said. "This is essence over image." European larch, Scots pine and Norway spruce were the main timbers used.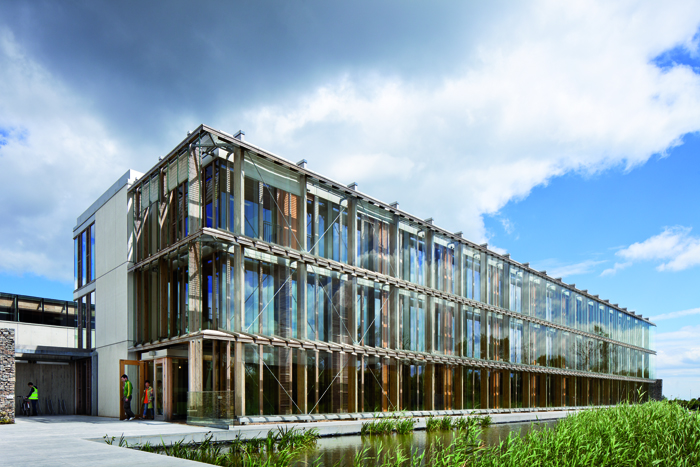 Small-scale building – Double House
A 400-square metre house in the Dublin Mountains and an extension to an old farmhouse entitle 'Old House New House' near Loughrea, Co. Galway were frontrunners in the small building category. 'Meath House' near Drogheda using American ash interior and Siberian larch external cladding impressed the judges, as did a small extension to semidetached house in Dublin using Douglas fir. 'Cottage Cubed' a conversion of a derelict fisherman's cottage in Bray using birch plywood made the most out of a small space.
The award went to the Clancy Moore designed 'Double House' built in a disused quarry in a conifer plantation in the Dublin Mountains. "The site had been skilfully and respectfully altered to make a unique setting for a special building", said O'Connor.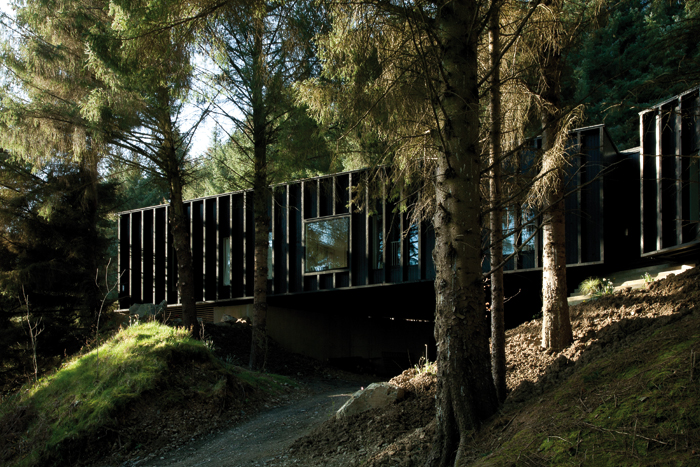 Conservation – Dublin Dental Hospital
There were contrasting entries in the 'Restoration and Conservation' category, including a major conservation project in the Dublin Dental Hospital, refurbishment of a Georgian house and the restoration of the waterwheel in Kilbeggan Distillery.
In their 'Wainscoted' project, Lawrence and Long Architects sensitively restored the Georgian building. The developed the idea of traditional wainscoting, walls using 2.2 metre high European white oak panelling to provide four apartments within the Listed Building..
Sheehan's Sawmills combined with the Industrial Archaeologist, Dr Fred Hammond & Athy Foundry to bring the waterwheel back to its former glory in the Westmeath village. The sawmill used homegrown European larch and oak for the floats on the waterwheel and the sluice gate.
The conservation category award was won by McCullough Mulvin Architects for their  restoration project in the Dublin Dental Hospital. The architects combined American white oak with existing pine floorboards in five protected buildings in the Trinity College complex.
In his citation, the State Architects said: "Creativity and respect combine with site specific inventive thought and different levels of intervention and restoration to such a degree that the new whole is more than just the sum of its historic past."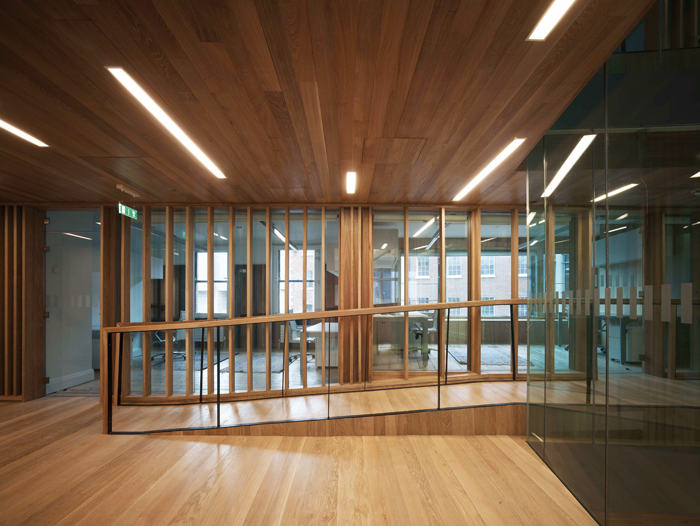 Dublin Dental Hospital – winner WAI restoration award
Furniture – Dell Building
In the 'Furniture' category, a clever machined birch plywood bookcase entitled  '8 by 4' caught the eye of the judges. Designed by Eamon Peregrine and Tom Maher, the pieces can be slot jointed together without the use of fixings.
The award  went to "Tree" which was installed in the Dell offices in Mahon Point, Cork. The magnificent structure oscillates between a piece of furniture and an artwork installation. "Some 400 separate yet interconnected elements of white oak climb 15 metres in a four storey atrium," claimed O'Connor. "This is a timber installation of great technical skill and bravado."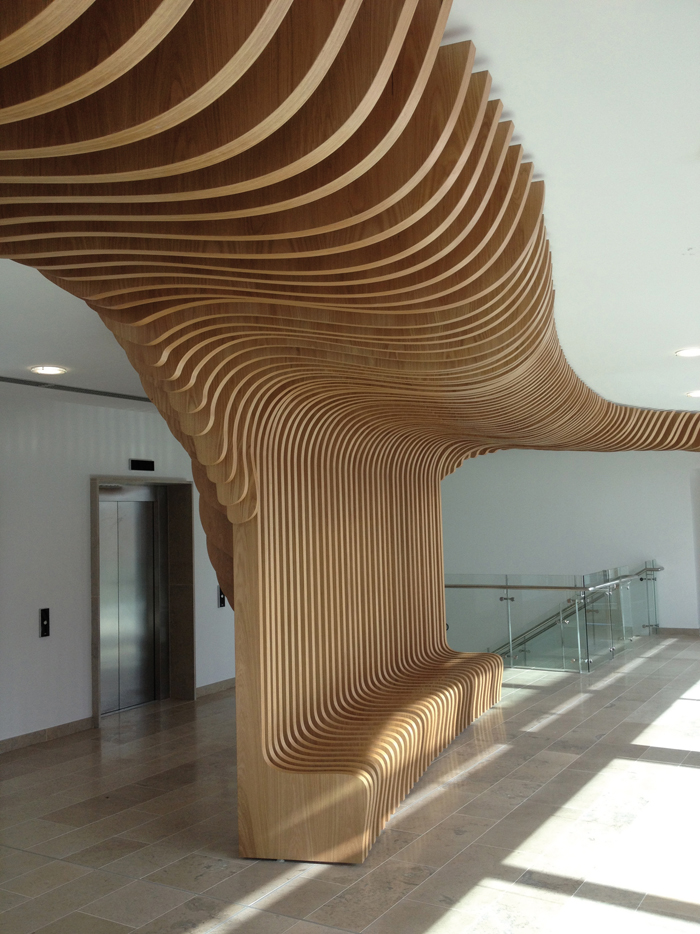 Tree. This structure spans four floors of an atrium with a total overall height of approximately 15m. Best described as a 'tree', it comprises over 400 separate and individually unique timber elements in American white oak veneer on an MDF core, with solid oak edging all around. 
Innovation – Mater Hospital 
The three front-runners for the innovation award were: Contemplation Space', 'Pallet Open Air' and 'Garden of Plenty'.
'Contemplation Space' located in the foyer in the new Mater Hospital, Dublin won the award. It was designed by Garvan de Bruir, Laura Magahy and Michael Goan with John Sisk Training and Education Centre providing the structural work. It used American ash to provide a unique resting and meditation space in the busy hospital foyer.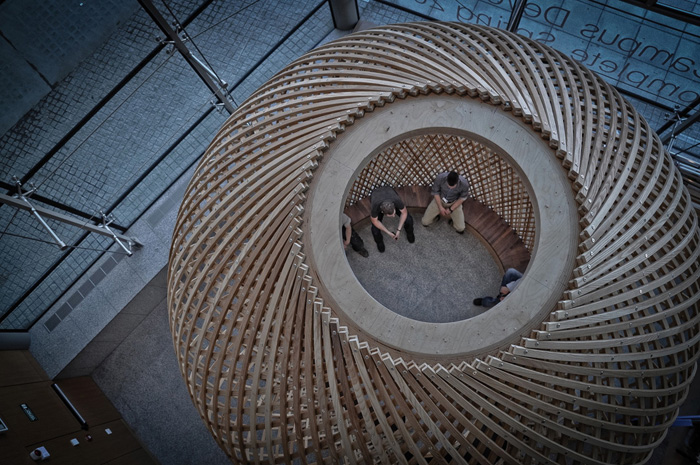 Contemplation Space. The space was conceived as a free-standing sculptural form inserted into the main foyer of the new Mater Adult Hospital Development. It provides a retreat for reflection away from the busy processes and interactions associated with the functioning of a large hospital.
International – Vessel, Venice Biennale
The 'International Award' was narrowed down to two exhibitions, which attracted huge attention at the Venice Biennale. John Mc Laughlin Architects and Gary A. Boyd created a demountable pavilion to house and frame an exhibition of Irish modern architecture spanning a century at the 2014 Biennale. Glulam spruce was the main structural material.
The international award went to 'Vessel'.by  O'Donnell + Tuomey Architects. This wood-stack temporary structure was designed and built as a special installation for the international exhibition at the Venice Architecture Biennale, 2012 and it is planned to erect it in Ireland.
The structure was meticulously assembled from 5,250 pre-sawn lengths of  Sitka spruce sourced in Coillte's forests and sawn by Glennon Brothers. Gen Joinery in Longford carried out the detailing.  "This soaring installation is for the imagination – it is large yet incremental in scale," said O'Connor.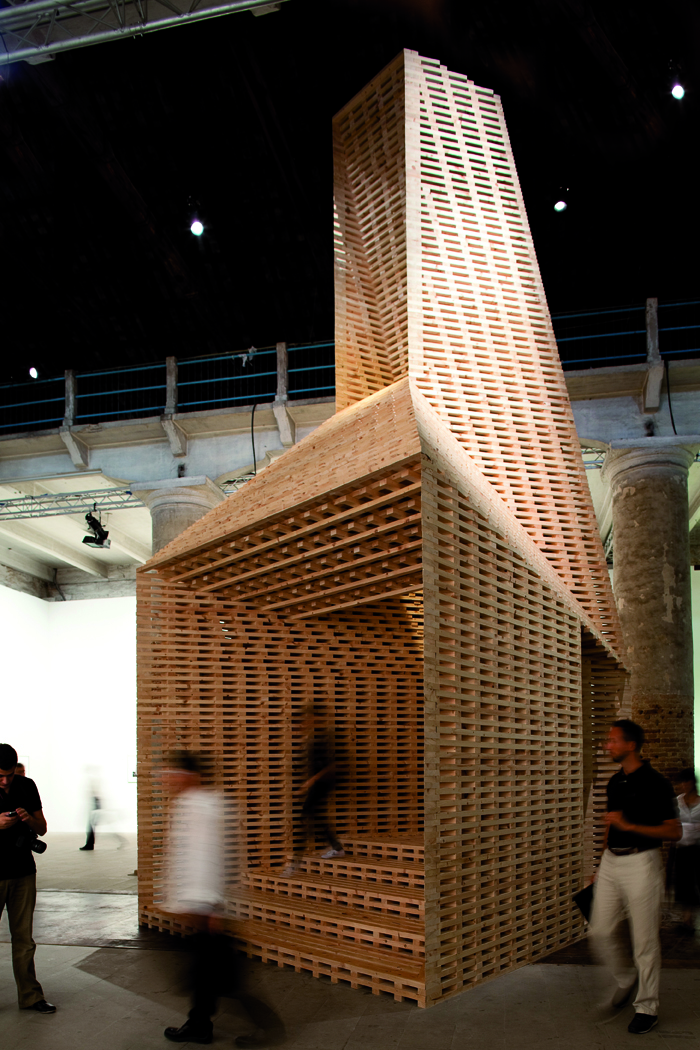 Vessel. Vessel with its 9-m high sculptural light funnel rising from a 4m x 4m floor plan was a pivotal element at the Venice Biennale and was seen by 178,000 visitors.
Timber for all projects was sourced in forests throughout the world from Ireland to the US and from Europe to New Zealand. The only stipulation was that all timber had to be sourced from sustainably managed forests and in accordance with the EU Timber Regulation, which counters the trade in globally illegally harvested timber.