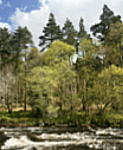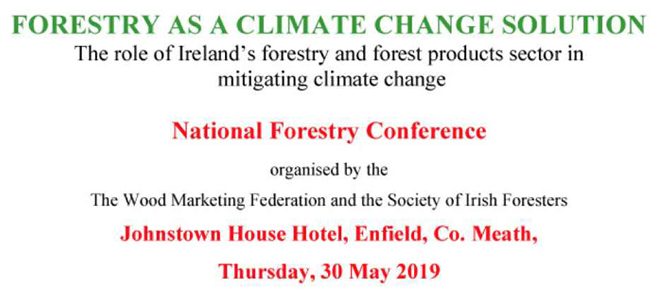 Irish and Scottish government ministers joined by expert
speakers at May 30 national forestry conference
The line up of speakers for this year's national forestry conference in Johnstown House Hotel, Enfield, Co Meath, on May 30, has been finalised. Irish Government Ministers Creed and Doyle along with Mairi Gougeon, Scotland's Minister for Rural Affairs and Natural Environment will address the conference topic "Forestry as a Climate Change Solution". They will be joined by Justin McCarthy, Editor Irish Farmers Journal and Prof. Gerry Boyle, Director, Teagasc who will discuss the actuality of climate change in agriculture. Speakers who will examine the role of forests and wood products in sustainable land use, construction and energy include, Stuart Goodall, CEO, Confederation of Forest Industries (Confor), Mike Haslam, award winning architect with Haslam & Co. Architects, Marina Conway, Ibec, ITGA and CEO Western Forestry Co-op, and renewable energy expert Des O'Toole, President IrBEA and Market Development Manager, Coillte.
The conference examines the role of the Irish forestry and forest products sector in mitigating climate change and reducing green house gas emissions. Carbon dioxide can be reduced in the atmosphere by sequestration or storage as "carbon sinks". Wood has the natural ability to carry out both of these functions: CO2 is sequestered in the growing trees while carbon storage is extended in the life of sawn timber, engineered and reprocessed wood as well as recycled wood. Not only is the production and processing of wood highly energy-efficient, but wood can be used as a substitute for non renewable materials such as steel, aluminium, concrete and plastics which require large amounts of energy to produce.
Forestry provides a major opportunity to ensure that Ireland achieves its greenhouse gas (GHG) emission targets. Forestry can assist industry by shifting from fossil based materials to sustainable wood construction and renewable wood energy. Its single biggest contribution can be in helping Irish agriculture meet its GHG targets. In this regard, Ireland is the only country in the EU that can increase forest cover substantially – from 11% of the land area at present to 17% by 2050 – without negatively impacting on agriculture and food security. These are issues that will be addressed by a panel of expert speakers who will also engage with the audience in what promises to be a lively exchange of views.
INFORMATION NOTE
The National Forestry Conference "Forestry as a Climate Change Solution" is organised by the Wood Marketing Federation and the Society of Irish Foresters. It is funded by Coillte and COFORD, the National Council for Forest Research & Development, Department of Agriculture, Food and the Marine and supported by the Irish Timber Growers Association and the Irish Farmers Journal.
The conference examines the role of the Irish forestry and the forest products sector in mitigating climate change and reducing green house gas emissions. It acknowledges that in order to optimise the role of forestry in climate change, there needs to be a dramatic increase in afforestation over the next three decades. Annual planting levels need to increase to 15,000 ha as recommended in Wood Wise 2025 to achieve 17% forest cover by 2050. At current annual afforestation levels (approx 5,000ha) forest cover of 17% – half the EU average – won't be achieved until 2100.
BOOKING
The conference takes place on 30 May 2019 in Johnstown House Hotel, Enfield, Co. Meath. Registration fee is €100 to include meals and conference book featuring articles on forestry and climate change and summary of all presentations as well as specialist information issued by stakeholders including Teagasc and NUI Galway on the feasibility of Sitka spruce for cross laminated timber (CLT) construction. It is advised to book before May 24 as places are limited. Further information from Pat O'Sullivan, Society of Irish Foresters (info@soif.ie) or call 086 2582240.
Download CONFERENCE INFORMATION 2019