Wood is the most versatile, renewable and sustainable resource on the planet. Timber is the oldest construction material, first used in the primeval forest as rough shelters. Sophisticated wood construction dates to timber frame buildings in China 10,000 years ago. Wood used in building for structural and non-structural applications has a significantly lower carbon footprint than materials that use fossil fuels during manufacture.
Our global forests capture 2.3 billion tonnes of carbon annually from the atmosphere according to the UN Intergovernmental Panel on Climate Change (2000). Timber from sustainably managed forests, converted into construction timber, furniture and other wood products act as carbon stores, often for centuries. In Scandinavia, timber houses and churches still survive from the 13th century. Wood is enjoying a major revival in Ireland after centuries of exploitation.
The Wood Marketing Federation was set up in 1989 to increase the knowledge and understanding of wood and wood products and to promote its use in construction and design.
The Federation forms partnerships with a wide range of companies and organisations – State and private – who share our mission: To promote wood as a renewable, sustainable and versatile natural material Please visit the other areas of our site to see the work, publications and promotional initiatives in which the WMF are involved.
Forestry as a central pillar in the  Bioeconomy
National Forestry Conference organised by the
The Wood Marketing Federation and the Society of Irish Foresters
Johnstown House Hotel, Enfield, Co. Meath
 Wednesday, 30 May 2018
The role that the forestry and the forest products sector can play in the bioeconomy  was outlined in the national conference on 30th May 2018.  Taking its lead from Growing the Irish Forest Bioeconomy, submitted to the Department of the Taoiseach by COFORD  earlier in the year, it explored how forestry forest biomass has a triple carbon benefit:
Carbon is sequestered as forests grow.
Forest biomass can be used to make products which displace materials with high embedded carbon such as steel, aluminium and concrete, as well as generating energy which displaces fossil fuels.
At the end of its useful life, forest based biomass products can be recycled into carbon neutral thermal energy and used for heating and/or electricity.
With timber production in Ireland  forecast to double to 8.1 million m3 by 2035, the assessed  the role of forestry in the bioeconomy from the forest to end product. See conference brochure and presentations for a detailed overview of the conference by the following speakers:
Andrew Doyle, Minister of State with responsibility for forestry at the Department of Agriculture, Food and the Marine.
Taking wood outside its comfort zone.  Donal Magner, Wood Marketing Federation, Society of Irish Foresters and Forestry Editor, Irish Farmers Journal.
Forestry as a central pillar in the Irish bioeconomy – achievable deliverables during the timescale of Project Ireland 2040. Gerard Murphy, Managing Director Coillte Forest.
Recognising the role of forests in a sustainable European bioeconomy is fundamental. Prof. Pekka Leskinen,  Head of Bioeconomy Programme,  European Forest Institute.
Converting from black to green energy – the importance of localised wood energy solutions. Kenny McCauley,  McCauley Wood Fuels Ltd.
Extending the life of wood – multispecies multiuse in wood design and renovation.. Karen McEvoy, Director, Bucholz McEvoy Architects.
Timber cities – the role of wood in sustainable high rise buildings. Markus Lager, Kaden + Lager Architects, Berlin.
Research & development needs in shaping forestry and the bioeconomy. Prof. Kevin O'Connor. School Of Biomolecular & Biomedical Science in University College Dublin founder and CEO of BIOPLASTECH.
Supported by the COFORD, the National Council for Forest Research & Development,  Department of Agriculture, Food and the Marine, Teagasc, RIAI and the Irish Farmers Journal.
WOOD AWARDS IRELAND 2016
Wood Awards Ireland 2016 demonstrated a wide diversity of species and uses
Seventeen shortlisted projects covering large and small-scale buildings, conservation, furniture, wood design and international structures by Irish designers highlighted wood as a versatile medium.
The second wood awards Ireland held on 17 November 2016 in Farmleigh, Dublin "demonstrated that Irish designers are using wood in a way that would have been unthinkable a few decades ago," claimed Paul Harvey, chairman of the Wood Marketing Federation (WMF) who organised the awards supported by the Royal Institute of the Architects of Ireland (RIAI).
"The range of categories for which the awards were made emphasise the versatility of wood in the various uses," said Andrew Doyle, Minister of State with responsibility for forestry who presented the awards. "Wood Awards Ireland is more than a competition among individual projects, it also highlights the Irish forestry sector, which has been engaged very successfully in cultivating a renewable and sustainable resource that provides a raw material for our sawmilling and timber processing industry."
Wood Awards Ireland received over 40 entries which were shortlisted to 17 projects covering large and small-scale buildings, conservation projects, furniture, innovative wood design and international structures by Irish designers.
FOR FURTHER INFORMATION PLEASE FOLLOW THIS LINK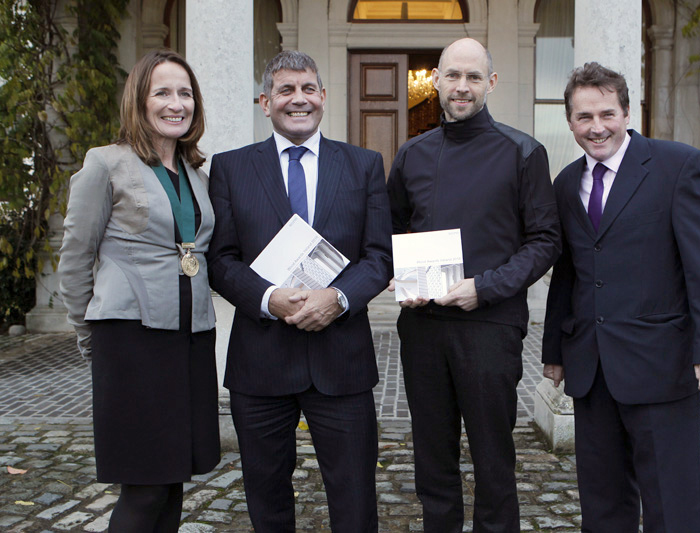 Andrew Doyle, Minister of State with responsitity for forestry at the Wood Awards Ireland presentation in Farmleigh, Dublin with Carole Pollard, President RIAI, Merritt Bucholz, Bucholz McEvoy, outright winner of Wood Awards Ireland and Paul Harvey, Chairman, Wood Marketing Federation.
---