Wood is the most versatile, renewable and sustainable resource on the planet. Timber is the oldest construction material, first used in the primeval forest as rough shelters. Sophisticated wood construction dates to timber frame buildings in China 10,000 years ago. Wood used in building for structural and non-structural applications has a significantly lower carbon footprint than materials that use fossil fuels during manufacture.
Our global forests capture 2.3 billion tonnes of carbon annually from the atmosphere according to the UN Intergovernmental Panel on Climate Change (2000). Timber from sustainably managed forests, converted into construction timber, furniture and other wood products act as carbon stores, often for centuries. In Scandinavia, timber houses and churches still survive from the 13th century. Wood is enjoying a major revival in Ireland after centuries of exploitation.
The Wood Marketing Federation was set up in 1989 to increase the knowledge and understanding of wood and wood products and to promote its use in construction and design.
The Federation forms partnerships with a wide range of companies and organisations – State and private – who share our mission: To promote wood as a renewable, sustainable and versatile natural material Please visit the other areas of our site to see the work, publications and promotional initiatives in which the WMF are involved.
WOOD AWARDS IRELAND 2016
Revised closing date for Wood Awards Ireland 2016 – August 26
A number of entrants and potential entrants for Wood Awards Ireland have requested an extension to the closing date of the awards due to holidays and work commitments, so we have decided to extend the date to accommodate as many entrants as possible to August 26. Also note that the size of the poster to be submitted is A1.
The Wood Marketing Federation Council is organising the second Wood Awards Ireland (WAI) in this year following on from the successful 2014 awards. WAI was initiated to promote wood usage and design among architects, engineers, designer and craftspeople. The Federation has secured funding from COFORD, Department of Agriculture, Food and the Marine, The American Hardwood Export Council (AHEC), Coillte and Enterprise Ireland, and administrative support from the Royal Institute of the Architects of Ireland (RIAI) and the Society of Irish Foresters. We are now issuing invitations to Irish architects, engineers, designer and others working in wood to make submissions to WAI2016 as well as Irish practitioners working overseas.
Wood Awards Ireland will be promoted to an Irish and international audience.
Download Wood Awards Ireland Application
Further information:  WOOD AWARDS IRELAND 2016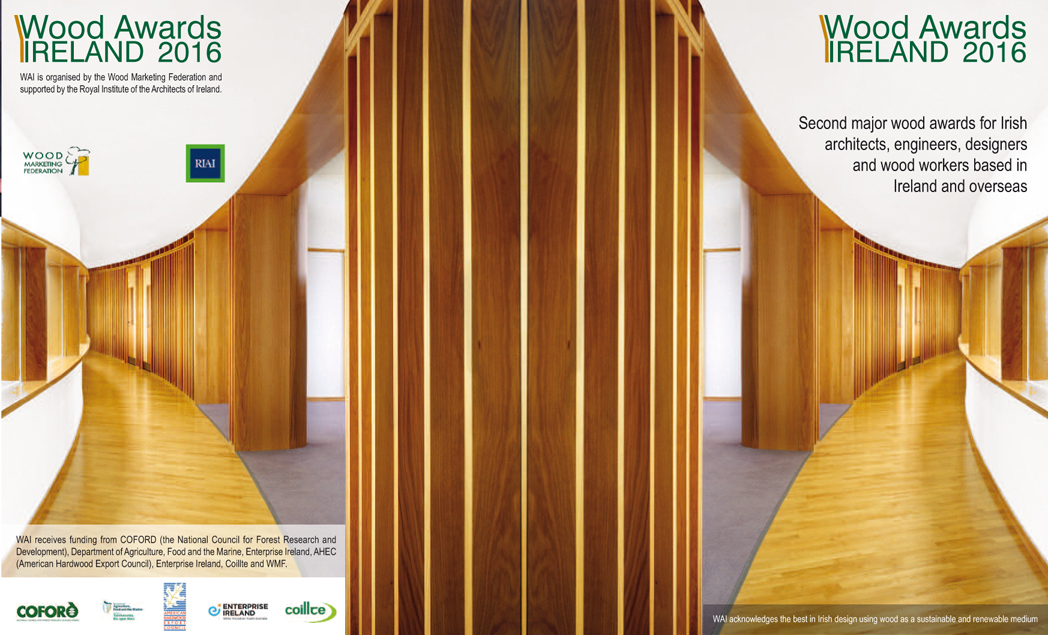 ---
THIRD LEVEL STUDENT WOOD AWARDS 2016
Minister Andrew Doyle presents top wood awards to Limerick, Dublin and Galway students

Minister of State with responsibility for forestry Andrew Doyle (second from the right) presented the Wood Marketing Federation (WMF) Third Level Student Wood Awards in the National Botanic Gardens with (from left) Duncan Stewart, architect, TV presenter and member of WMF judging panel, Paul Harvey, WMF chair, Matt Collins, University of Limerick, winner of the engineering award and Gerard Murphy, managing director, Coillte Forest, the main sponsors of the annual awards.
Further information:   STUDENT WOOD AWARDS
---
Wood Mobilisation Forestry Conference
The National Forestry Conference "Wood Mobilisation"  held in Enfield on July 1 heard how international developments such as the Arab Spring uprisings and the housing market in China affect wood mobilisation and price in Ireland. While local issues dominated the conference, international topics were also discussed by speakers who reminded the audience that Ireland now exports most of its sawn timber and virtually all panel board products.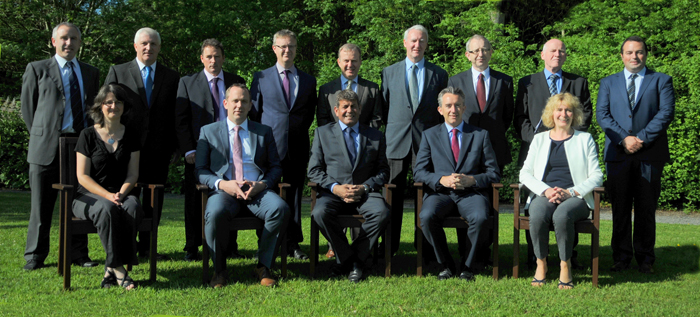 Contributors to the Wood Mobilisation conference in Enfield organised by the Wood Marketing Federation (WMF) and the Society of Irish Foresters (SIF).  Front row:  Alex Kelly, manager Irish Wood Producers; Justin McCarthy, editor, Irish Farmers Journal, Andrew Doyle TD, Minister of State; Fergal Leamy, CEO, Coillte; Dr. Aine Ni Dhubhainn, associate professor, UCD. Back row: Dr. Niall Farrelly, president SIF;  Noel Kenna, MD, Roundwood Timber Ltd.: Paul Harvey, chairman, WMF; Daragh Little, chairman, Irish Forestry and Forest Products Association; Richard Lowe, Coillte, director of sales and marketing; Dr. Eugene Hendrick, senior inspector, Forest Service and COFORD;  Brendan Lacey  chairman Irish Timber Growers Association; Donal Magner, secretary WMF; John Ryan, forestry manager, Murray Timber Group. 
---