Wood is the most versatile, renewable and sustainable resource on the planet. Timber is the oldest construction material, first used in the primeval forest as rough shelters. Sophisticated wood construction dates to timber frame buildings in China 10,000 years ago. Wood used in building for structural and non-structural applications has a significantly lower carbon footprint than materials that use fossil fuels during manufacture.
Our global forests capture 2.3 billion tonnes of carbon annually from the atmosphere according to the UN Intergovernmental Panel on Climate Change (2000). Timber from sustainably managed forests, converted into construction timber, furniture and other wood products act as carbon stores, often for centuries. In Scandinavia, timber houses and churches still survive from the 13th century. Wood is enjoying a major revival in Ireland after centuries of exploitation.
The Wood Marketing Federation was set up in 1989 to increase the knowledge and understanding of wood and wood products and to promote its use in construction and design.
The Federation forms partnerships with a wide range of companies and organisations – State and private – who share our mission: To promote wood as a renewable, sustainable and versatile natural material Please visit the other areas of our site to see the work, publications and promotional initiatives in which the WMF are involved.
National Forestry Conference organised by the
The Wood Marketing Federation and the Society of Irish Foresters
Johnstown House Hotel, Enfield, Co. Meath,
Wednesday, 31 May 2017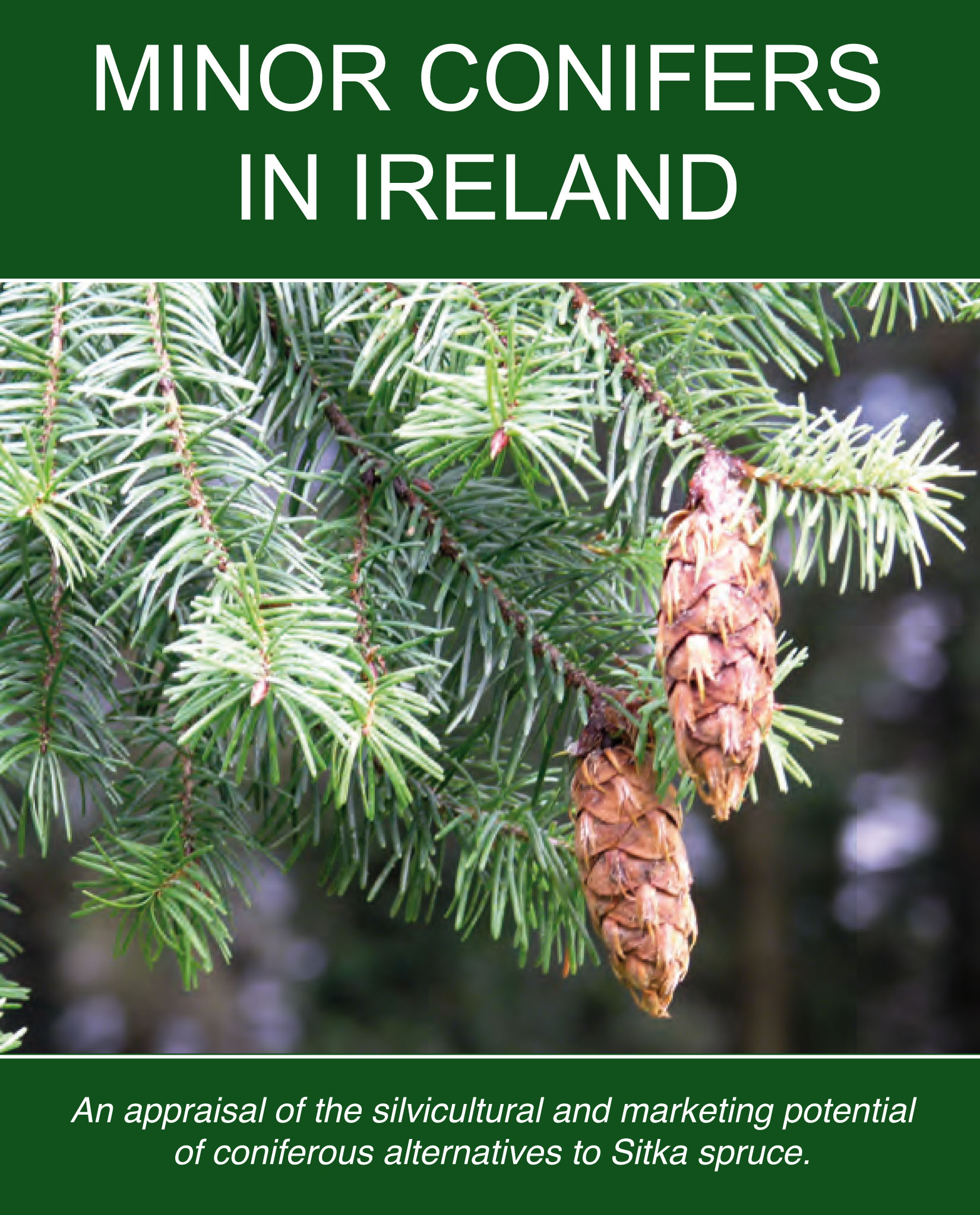 The National Conference reassess the future role of minor conifer species in Irish forestry. The term 'minor conifer' refers to alternatives to Sitka spruce and includes the following species that have adapted well to Irish soil and climatic conditions: Norway spruce, Douglas fir, Scots pine, larch species, western red cedar, western hemlock and Monterey pine. Sitka spruce continues to be a major species in Irish forestry in terms of yield, site adaptability and market benefits. Its success is the main reason why the Irish forestry and forest products industry has an annual value of €2.2 billion. However, overreliance on one species has led to a one-dimensional forestry sector and could place the industry at risk especially in relation to possible future disease damage. Ireland doesn't have an alternative commercial species – hardwood or conifer – to Sitka spruce. Having addressed hardwoods in a previous conference, the organisers believe it is timely to explore the potential of alternative coniferous species.
WHO SHOULD ATTEND? The conference is aimed at forest owners, producer groups, foresters and forestry companies, researchers, State agencies, timber processors and end users.
The conference features experts in silviculture, research, timber processing, marketing and wood science in Ireland, Scotland and England.
ITIC LAUNCHED
The Irish Timber Information Centre (ITIC) was established in 2015 by the Wood Marketing Federation (WMF) in collaboration with the National University of Ireland Galway (NUIG).
The main objective of this initiative is to provide information on a wide range of timber issues relevant to stakeholders working in wood including architects, engineers, designers, builders, timber preservation specialists, third level colleges, wood workers and other specifiers. ITIC also prepares literature on timber design, construction, usage and preservation.
The Wood Marketing Federation believes that ITIC can play a key part in advancing the spread of knowledge on a wide range of wood related topics. It is compatible with most of our other projects which have a strong promotional and educational content because we recognise that there is still a lack of information relating to wood usage and design specific to Ireland.
In this regard it will play a major role in achieving our mission to promote wood as a renewable, sustainable and versatile natural material.
ITIC is supported by the WMF, COFORD, NUIG and stakeholders in the forestry and forest products sector as it meets the following Federation objectives:
Quality – supporting the development of the highest standards.
Education – increasing the knowledge and understanding of wood and wood products.
Innovation – promoting and encouraging new uses and applications for wood. The ITIC project is compatible with the WMF mission to promote wood as a renewable, sustainable and versatile natural material. ITIC provides:
Information to timber specifiers in architecture, engineering, design, processing, preservation and building as well as third level students and researchers.
The Irish timber industry with a single point of contact for technical and regulatory information.
Website information to reflect queries directed at ITIC.
Information on aspects of wood such as the compilation of literature on wood testing centres in Ireland and the UK, wood processing, engineered wood and certification.
Click on the ITIC icon and complete the form. Queries will be answered as soon as possible after consultation in-house or with experts in Wood Technology Ireland (WTI).
WOOD AWARDS IRELAND 2016
Wood Awards Ireland 2016 demonstrated a wide diversity of species and uses
Seventeen shortlisted projects covering large and small-scale buildings, conservation, furniture, wood design and international structures by Irish designers highlighted wood as a versatile medium.
The second wood awards Ireland held on 17 November 2016 in Farmleigh, Dublin "demonstrated that Irish designers are using wood in a way that would have been unthinkable a few decades ago," claimed Paul Harvey, chairman of the Wood Marketing Federation (WMF) who organised the awards supported by the Royal Institute of the Architects of Ireland (RIAI).
"The range of categories for which the awards were made emphasise the versatility of wood in the various uses," said Andrew Doyle, Minister of State with responsibility for forestry who presented the awards. "Wood Awards Ireland is more than a competition among individual projects, it also highlights the Irish forestry sector, which has been engaged very successfully in cultivating a renewable and sustainable resource that provides a raw material for our sawmilling and timber processing industry."
Wood Awards Ireland received over 40 entries which were shortlisted to 17 projects covering large and small-scale buildings, conservation projects, furniture, innovative wood design and international structures by Irish designers.
FOR FURTHER INFORMATION PLEASE FOLLOW THIS LINK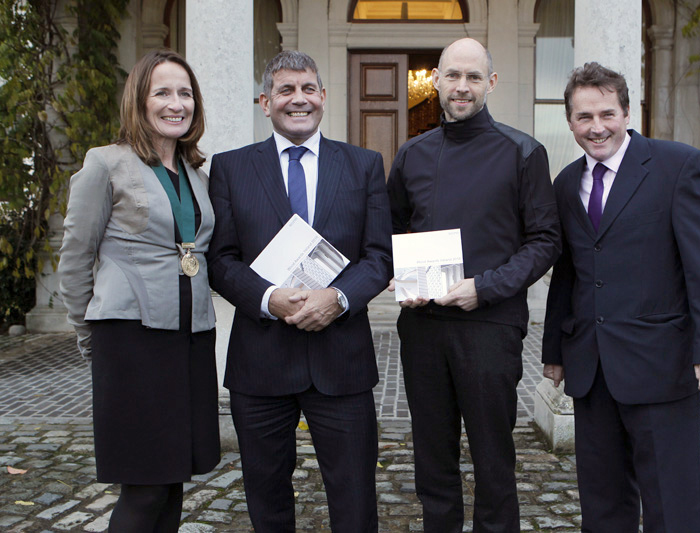 Andrew Doyle, Minister of State with responsitity for forestry at the Wood Awards Ireland presentation in Farmleigh, Dublin with Carole Pollard, President RIAI, Merritt Bucholz, Bucholz McEvoy, outright winner of Wood Awards Ireland and Paul Harvey, Chairman, Wood Marketing Federation.
---