Wood is the most versatile, renewable and sustainable resource on the planet. Timber is the oldest construction material, first used in the primeval forest as rough shelters. Sophisticated wood construction dates to timber frame buildings in China 10,000 years ago. Wood used in building for structural and non-structural applications has a significantly lower carbon footprint than materials that use fossil fuels during manufacture.
Our global forests capture 2.3 billion tonnes of carbon annually from the atmosphere according to the UN Intergovernmental Panel on Climate Change (2000). Timber from sustainably managed forests, converted into construction timber, furniture and other wood products act as carbon stores, often for centuries. In Scandinavia, timber houses and churches still survive from the 13th century. Wood is enjoying a major revival in Ireland after centuries of exploitation.
The Wood Marketing Federation was set up in 1989 to increase the knowledge and understanding of wood and wood products and to promote its use in construction and design.
The Federation forms partnerships with a wide range of companies and organisations – State and private – who share our mission: To promote wood as a renewable, sustainable and versatile natural material Please visit the other areas of our site to see the work, publications and promotional initiatives in which the WMF are involved.
Wood Mobilisation Forestry Conference


National Forestry Conference organised by the Wood Marketing Federation
and the Society of Irish Foresters
Johnstown House Hotel, Enfield, Co. Meath.
Wednesday 1 June 2016
THE NATIONAL CONFERENCE explores opportunities to optimise wood mobilisation in Ireland, now regarded as the key to providing a return on investment for plantation owners, contractors and timber processors. This was highlighted in the report published by COFORD, which identified a current shortfall of one million cubic meters between forecasted supply and demand, which will double by 2020 Maximising timber mobility will minimise this difference as well as our reliance on imports. The conference will address ways of increasing the flow of timber as well as barriers to wood mobilisation.
Further information:    WOOD MOBILISATION FORESTRY CONFERENCE 2016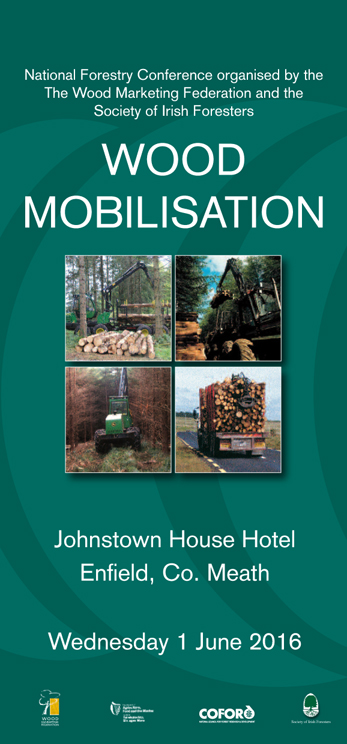 THIRD LEVEL STUDENT WOOD AWARDS 2016
This year the Wood Marketing Federation (WMF) launches the 11th annual Third Level Student Wood Awards 2016. These are now regarded as the premier awards for third level students of architecture, engineering and design in Ireland who specialise in making work in timber and timber products. The awards are open to students who incorporate wood as an inherent element in their projects. Award winners have gone on to pursue successful careers in wood and related businesses and have exhibited at Irish and international shows. Key dates:
7 June 2016Completed application forms Debbie Hackett (Hackett@coillte.ie) Student Wood Awards, Coillte HQ, Newtownmountkennedy, Co. Wicklow) by 7th June 2014. For further information please phone 01 2015209.
16 June 2016 – adjudication at University College Dublin, Newstead Building.
7 July – winners announced and prizes presented at a special ceremony held in the National Botanic Gardens, Visitor Centre, Glasnevin, Dublin
Further information:   STUDENT WOOD AWARDS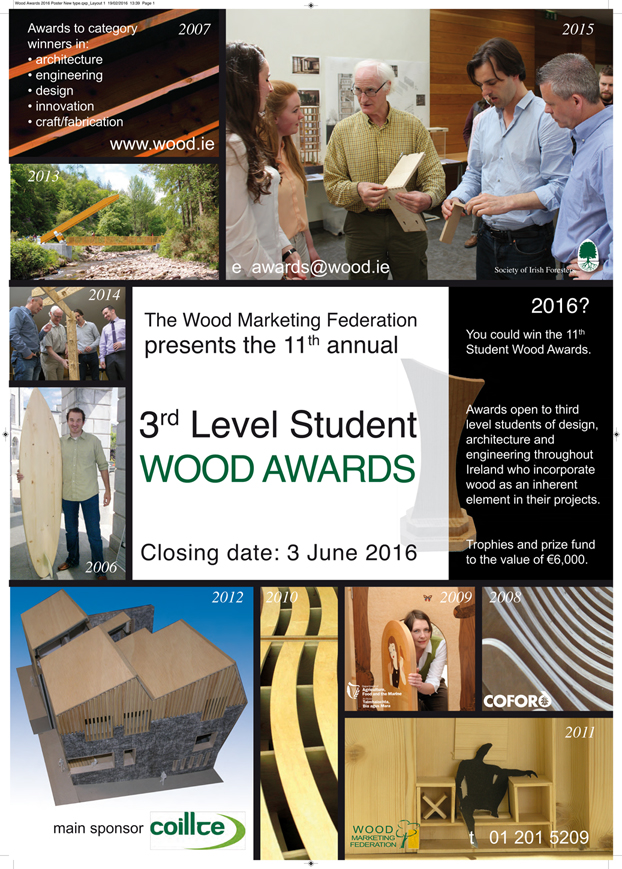 WOOD AWARDS IRELAND 2016 LAUNCHED
The Wood Marketing Federation Council is organising the second Wood Awards Ireland (WAI) in this year following on from the successful 2014 awards. WAI was initiated to promote wood usage and design among architects, engineers, designer and craftspeople. The Federation has secured funding from COFORD, Department of Agriculture, Food and the Marine, The American Hardwood Export Council (AHEC), Coillte and Enterprise Ireland, and administrative support from the Royal Institute of the Architects of Ireland (RIAI) and the Society of Irish Foresters. We are now issuing invitations to Irish architects, engineers, designer and others working in wood to make submissions to WAI2016 as well as Irish practitioners working overseas.
Wood Awards Ireland will be promoted to an Irish and international audience.
DOWNLOAD – WAI-application 2016
Further information:  WOOD AWARDS IRELAND 2016